!===================================================> <! This page was created by WEB Wizard > <!===================================================> <! For additional WEB Wizard information you > <! can stop by our homepage which is located > <! at: http://www.halcyon.com/webwizard/welcome.html > <!===================================================>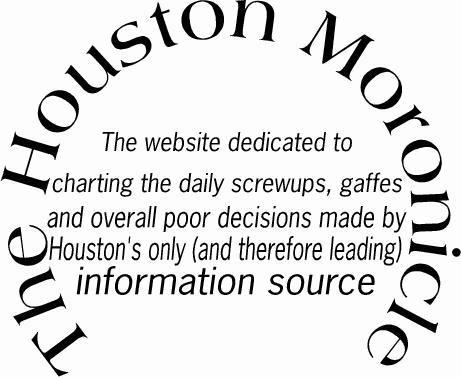 In days of yore, Houston, Texas, was a happy town. Birds sang in the morning, we were only second in the nation in smog per square inch behind (Hel)L.A. and the Houston Rockets were on the verge of a second straight NBA title.

All that changed one tragic morning when The Houston Post was bought, shredded and buried in a matter of minutes by its crosstown rival, The Houston Chronicle.

Find out what happened to The Houston Post here.


Since that day, The Chronicle has steadily decreased in appeal, coverage, attention to detail and desire to be any sort of newspaper worthy of the nation's fourth-largest city. After years of watching the mistakes and the malaise, the Alliance to Stop Shitty Houston Outlets of Literature (ASSHOL) was formed, with the sole purpose of bringing to the light the weekly atrocities commited by this rag that have turned the once tranquil Bayou City into a print journalism wasteland.


It won't be an easy battle, and we need your help. Send your Chronicle complaints, errors and horror stories to moronicle@yahoo.com and help bring down the Hearst Corp. tyrants, or at least, really piss them off.

If you are an employee of The Chronicle or a member of their prosecution team, please click here to visit our modus operandi page and see all the legal mumbo-jumbo that our site is based on.
This Week's Screwups
Check out what mistakes the Chronicle has made this week. (updated daily)
---
Great Chronicle Mysteries and Testimonies (Under Construction)
A few stories of our own (but not too personal, can't have the man bring us down just yet). Email your own stories to The Moronicle and we'll print them here!

Hey, hey kids! We've got our first official testimony, sent to us by our new friend "The Reader". Our new friend ain't too happy with a certain column that the local paper seemed to tweak without the writer's permission! Follow the link to read all about it!

Why do they think we want two papers later when the first one doesn't come?


Why The Associated Press is like heroin to The Chronicle editors ... not that we've ever tried heroin.


Let's see, 70 5A and 4A high schools in the coverage area plus all the TAPPS squads, I think THREE high school sportswriters is enough!


How do you spot a Chronicle subscriber? By the soot on his hands and face.


When all the best equals the worst -- The Chronicle's allegory to masterful episode of The Twighlight Zone.

The Chronicle Website or That's a great website if you're 13 years old.
We'll be blunt. There are 3.1 million people in Houston, couldn't The Chronicle find ANYONE with webmaster skills? At its current level, the webiste looks like a class project for a HISD 4th period web design class circa 1997.

The website appears to be updated approximately every time someone remembers they have a website, then it's off to CNN's site or perhaps over to Channel 2 , to see what the hell's going on outside.

Meanwhile, other Texas cities like Dallas and San Antonio have thorough websites that actually make you feel like you have that paper in your hands, where as with The Chronicle online you feel like you've been reading over a guy's shoulder on the bus, or you tossed away your burrito at lunch and saw the sports page in the garbage (where it belongs!)

But the true masterpiece of The Chronicle website is the archives. The paper actually has the nerve to charge non-subscribers to use its archives, even though you can haul your ass down to their office or the library and read them for free. This is an economic procedure called "Giving the Shaft", in which an organization finds a way to charge its customers for every conceivable thing imaginable. (See also Snyder, Dan).
The Chronicle website kindly asks for a pittance of your money to use their lackluster search engine. Never fear, gentle reader, there is a way around this evil. Surely we all know someone who subscribes to The Chronicle, and in their overwhelming benevolence, the paper provides the archives free to their subscribers.


They ask for an account number, but are so helpful as to mention you can also get that number by inputting your street address numerals and phone number. So it's time to buddy up and think of someone you know (whether they know you or not). Type in their street address and phone number, and toss your email address in as well and the good ol' Chronicle website will have that account number for you, licketdy-split!


Now you may have a moral dilemna when the website presents the name of your friend as asks if that is you, because you have to answer yes, tellng a teeny, tiny white lie to get the email sent, but hey, it's the system that's making you lie, so you're absolved of guilt.

You can sign the guestbook right here. The local paper would have a guestbook, but that would require their web designers working more than 45 minutes a week.

That many pissed off Houstonians can't be wrong!