This Week's Goofiness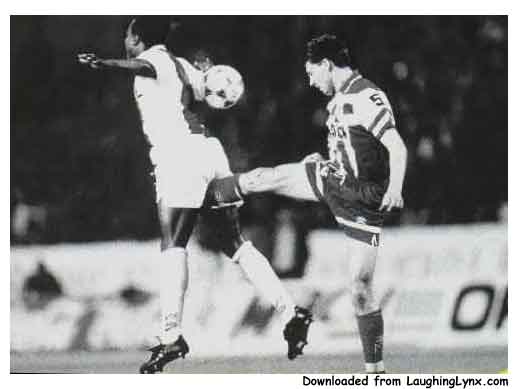 3-30-01: Sports: If Memorial is the Mustangs and Taylor is the Mustangs, who is Josh Gajewski referring to when he simply writes, "The Mustangs". Go figure.

3-30-01: Sports: THE ROCKETS ARE DEAD, just put that, stop making these veiled references to maybe the Rockets are in playoff jeopardy. Show some sack, Michael Murphy!

3-30-01: Entertainment: It's the classic Chronicle movie review of a movie that's funny, but funny the wrong way, in this case, Tomcats. Bruce Westbrook tells readers, some of it's funny, IF IF IF IF you're the kind of scum that laughs at jokes about testicles and sex and weirdly-shaped body parts. So you gentle reader, after laughing your ass off for 1 1/2 hours because you got to get away from your lousy job and / or family, now feel like the intellectual equivalent of a bananna slug because Mr. High and Mighty Movie Reviever is so jaded by being a film critic he can't sit back and giggle for 90 minutes.

3-30-01: Web Page: The story about genetically-engineered mice eating more but getting thinner is four stories higher up than the story about a lawsuit stemming from the Aggie Bonfire that collapsed and killed 12 people. This placement is the living, breathing proof of the whole existence of our website.

3-29-01: Sports: Yes, in today's sports section, Michael Murphy has penned a piece on Duke's marvelous point guard Jason Williams. The heder reads "Duke guard 'king of kings'". Wow, it's finally here, the Day of Reckoning.


See, the Bible calls God our king of kings in Timothy 1, 6:15 "For at the right time, Christ will be revealed from heaven by the blessed and only almighty God, the King of kings and Lord of lords. He alone can never die, and he lives in light so brilliant that no human can approach him."


Jason Williams, on the other hand, lives in North Carolina. A couple of our staff members have been there, and while it's pretty in autumn, we thought heaven would be a little nicer. But, on the other hand, which is more reliable, a 2000-year old book upon which all our morals are based on, or Houston's leading information source? All Hail Lord Williams! And yes, we see the irony that he plays for the Blue DEVILS.

3-29-01: Metro: We really like the headline "21 cattle to be tested for mad cow", not the disease, just to find out if any one of them is the cow that's angry :)

3-29-01: Sports: Brian McTaggart wrote a nice feature about Suns' forward Shawn Marion and how he's bounced back from the big fall he took last month, "stronger than ever". Marion suffered a knee contusion against Cleveland last night (story reported on the adjacent page in the paper), played three minutes and will likely miss tonight's game with the Rockets.

3-28-01: Someone sent this in and it blew us away -- Nowhere in The Chronicle was there a story concerning the two downed American jets in Scotland. The Royal Air Force said it had seen wreckage and a body, but NOTHING in The Chronicle. We guarantee you if any of the unfortunate crewman on those planes turns out to be from Texas, they'll splash them all over the front page for 3 days like they saved the planet, but when they're unknown, "JUST" soldiers, ZIP!

3-28-01: Sports: A late-night notice! The NBA page has the league leaders in assists, but the morons put steals on top of the category instead. Imagine John Stockon's surprise when he learns he's averaging 9.1 steals per game, almost double the all-time record!

3-28-01: Front Page: The flooding story mentions "Memorial" was closed down by high water. There are four streets called Memorial in the greater Houston area. They were looking for Memorial Drive. Also the grab-line for the story is "Flooding threatens rush hour." Threatens? So if the flooding continues, there might not be a rush hour? That would be horrible? Or did the flooding but a knife to rush hour's throat, and say, "I'm gonna kill you, rush hour!"

3-28-01: Website: The website loading problems persist. The best part is the chron.com won't work, but if you type in houstonchronicle.com, it will always work, even though it redirects you to chron.com. What?

3-28-01: Metro: Story concerning death of a homeless man in a fire. The article reads that "neighbors believed the man was inside the house." We're guessing if his body was found inside the house, he was probably inside the house. Nice wordsmithing, S.K. Bardwell.

3-28-01: Business: This mugshot of Pat Wood III (and by the way, Beavis and Butthead would love that name), makes him appear to have just uttered the phrase, "Whatch you talkin' bout, Willis?"
3-28-01: Front Page/Sports: Dangit, the whole reason we finally started this site was when they blew the Hakeem Olajuwon story. The front page picture of the Dream coming back against Utah says that Olajuwon returned from a blood clot that threatened his career, THAT'S NOT RIGHT, you morons. If he had had another bloodclot, he'd never play basketball again, he'd be on anticoagulants for life. The only reason he came back was that it was not a clot, but blockage in a vein produced from his previous clot in 1989. Jeez, you think when your paper is located 15 miles from the country's premiere medical center, you could do a little homework.
3-27-01: Front Page: For the love of all that's holy, they used the word "retarded" in the banner headline. Not "mentally retarded", not "mentally challenged," not "mental retardation" they just boldly therw the word that makes every parent cringe and every 13-year-old boy giggle into a banner headline.
3-27-01: Sports: Fine story by Mr. Gajewski on Elkins' boys soccer except for the picture, which identifies Marcus Storey as Rueben Ray and vice versa. There's nothing like working hard at soccer for four years, finally getting your picture in the paper and having that picture be of someone else. Great job!
3-27-01: Website: Well, so far this A.M. the website simply won't load. We're still in a philosophic debate whether this is a mistake or a welcome relief! More updates soon.
3-26-01: Front Page: The Oscar story blows it in the lead. It mentions Stephen Sodbergh won the award for Best Director while being the first director to have two films simultaneously nominated, but it doesn't say what two they are or which one he won for! You learn five paragraphs later that it was for Traffic, but only if you read closely.
3-26-01: Sports: They still don't have the high school soccer playoffs updated (some games are tonight, oh well, sorry fans!) but they do have a story about Randy Johnson accidently killing a dove. Nice journalism.
3-25-01: Website: Well, you go online to see The Chronicle's vaunted Oscar picks tonight, unfortunately that webpage doesn't load. Oh well, it's a pretty graphic anyway.
3-25-01: Front Page: In the day's top story, a paragraph starts with the phrase "McCain added" and then a 50-word quote. If you turned that crap into a collegiate journalism professor, he or she would put a gun to your head.
3-25-01: Website: All right, we're nitpicking, but it's fun to see the weather forecast as High 65, Low 50, when the current temperature reads 72.
3-25-01: Sports: In the story about the Astros' potent outfielders, the writer mentions that from the first game of the year to the last, Moises Alou racked up the kind of numbers that gave him the 2nd-highest batting average in the National League. That's all well and good, except Alou missed 30 games in the middle of the season with injuries. Perhaps Mr. Duarte was at the buffet during May and June.
Later in the story it has a quote from Larry Dierker saying the Astros' outfield may be the best in baseball. The next paragraph warns you, gentle reader, not to take Dierker's word for it ... then why the hell did you ask him?
There will be more nightmares to come this week, so check on back tomorrow. For now, head back to The Moronicle homepage